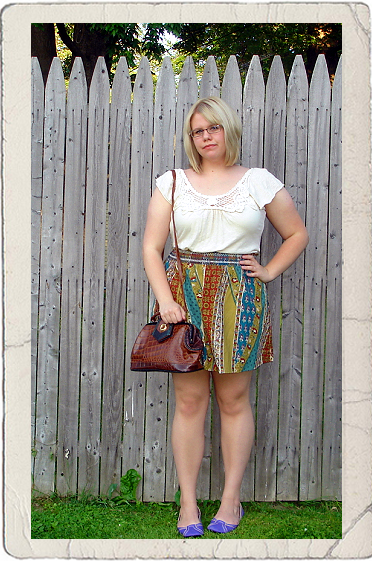 Very Modcloth -ish, right? Hm, maybe it's just me...
Cream top: Forever21

Patterned skirt: Wet Seal
Purple flats: Charlotte Rousse
Faux snakeskin bag: Thrifted

Unfortunately I haven't had much luck with thrift stores lately, save for a few trinkets and things to put in the shop. I know every girl has some feature she finds hard to dress (broad shoulders, big hips, tiny frame, etc!) but being the curvaceous lady that I am I get discouraged sometimes when all the "best" vintage things I find are about 5 sizes too small.

SO! A mall-lovin' girlfriend of mine's birthday is coming up and I promised I'd go to the mall with her to help her find a birthday outfit. I really had no intentions of finding anything, let alone buying anything, since I haven't been there in so long and have become quite accustomed to strictly 2nd hand shopping. So I thought heck - I wonder if I can put together an outfit strictly from the mall...that I actually LIKE. It was especially difficult because there is no F21, Gap, or H&M at this mall. So I stuck to the teeny bopper stores.
A few observations! First of all, everything is divided so strangely in these stores. They're arranged by style, so the sections are like "hippie," "clubbing," "preppy," etc. And - SO GOOD! - a lot of them are now carrying larger sizes! Duh, glad you caught on to real female shapes, guys.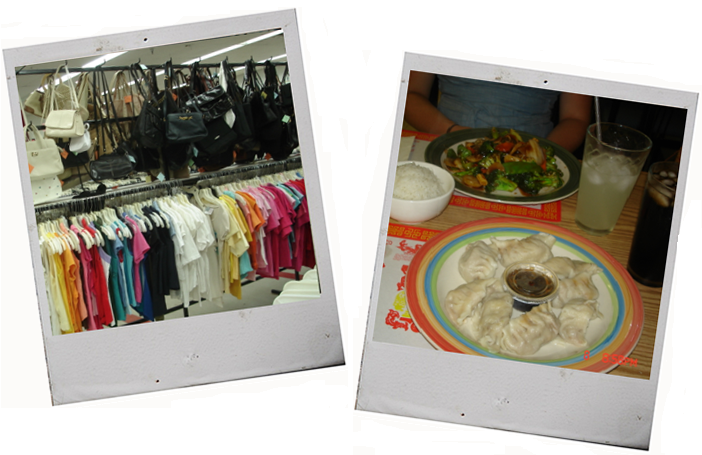 As for yesterday, Bettie and I went thrifting in Cleveland. We only made it to a couple (and in one of them we got there 5 minutes before closing and both managed to find a few things! Talk about serious shoppers) but it was a nice relaxing day, complete with a visit to my favorite Chinese joint! Bettie has promised a post featuring some of the pictures we took, so I'll just let her do the talking! Oh, and we've got a
Flickr account
up and running if you'd like to take a gander. There's a photo on there of the outfit I wore the day I met with the ASL lady, the one I posted about
here
, that I didn't blog. And a snap of The Mysterious Bettie, too!
Oh, and more things going into the shop tomorrow, so
watch out
!