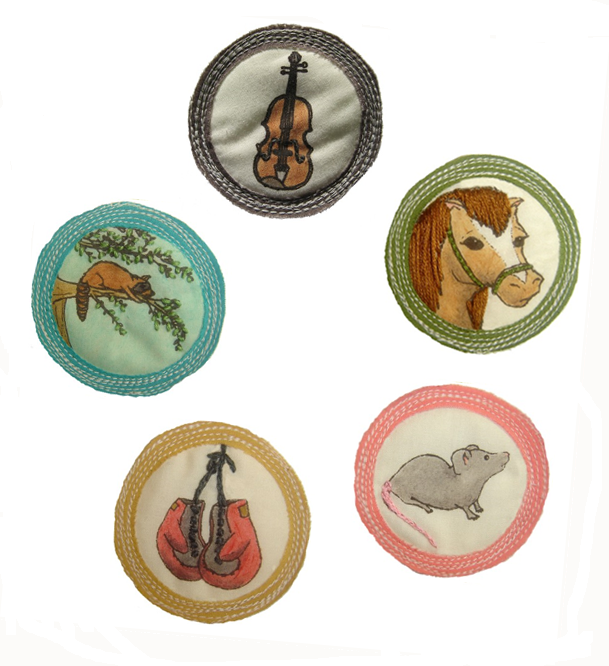 Clockwise from the top:

1.

For being "fit as a fiddle,"

2.

for "getting back on the horse,"

3.

for being "quiet as a church mouse"

4.

for "rolling with the punches"

5.

for "going out on a limb."
Yes, that's right, it's Chicken Dinner Candybar's first giveaway! A generous Canadian Etsy artist by the name of
Lee Meszaros
has kindly allowed me to give away two of her adorable handmade merit badges. But this is no ordinary giveaway! 2 winners are going to win their own personal badges.
Here's what you have to do:
1. Come up with a slogan for a new badge! You know, a cute little cliche like your momma used to say.
(Limit 3 per entry, please! And make sure you visit her shop to make sure it hasn't already been done ;) )
2. Leave it here in a comment, and
if you don't have a blog don't forget to leave your e-mail.
That's it! The 2 most clever sayings will be made into a badge for two special ladies or gentlemen. So go ahead, get yourself some personalized free goods! Don't forget to
visit her shop
to see more of her awesome work.
Contest ends at 10pm Eastern time on June 30th. Winners will be announced July 1st. Good luck!!