'80s Blue roses dress: thrifted
Cherry saddle bag: thrifted
Crazy '80s patchwork heels: thrifted
Gold bow + chain earrings: handmade, gift.
I told you I was feeling inspired by the ladies I posted about on Friday :D! It was really warm today (okay, only about 80 something, but for us northern folk that's pretty hot after 6 months or so of cold!) and I was really digging bright sunny colors. Last week I posted about how I was going garage sale-ing, but unfortunately they ended up being mostly baby clothes, stuffed animals, and knick knacks. Don't you hate that? Ah well. It's kind of interesting going through peoples' things though, one guy's sale told me he was a little dirty (huge Playboy collection), Pro-Life (pin badges), and a veteran (military wares). I was a little embarrassed sorting through his things!
So after I gave up on those, I headed to my trusty thrift store and found this outfit (except the bag, which I thrifted a couple months ago a few miles east of here). I was really trying to do something different so I hope it turned out okay!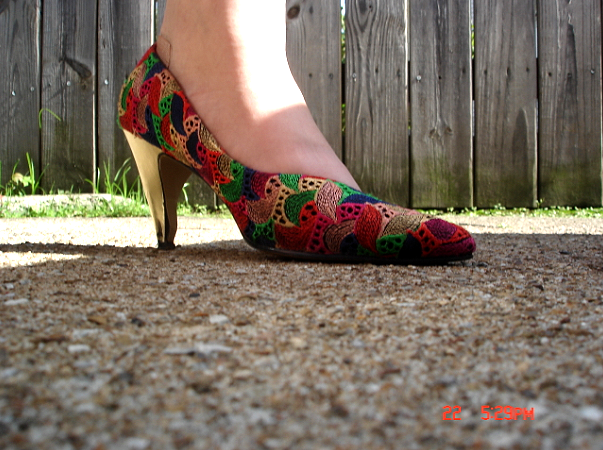 It's so weird
, the 1980's are probably my least favorite decade as far as fashion goes, but somehow my latest closet additions are all from that era! Tis a mystery... I also wore an '80s skirt the other night for a friend's birthday dinner, but it rained practically a monsoon and I was in a hurry so I will try to recreate it and post it here later in the week :).
I was also sushi-crazed this weekend! So much so that I had it twice. One of my favorite things to do is sit in a quiet sushi restaraunt and read a nice girly, smut novel (aka the Charlaine Harris series). The first plate is from a place called Sumo Boy. It's pretty cheap and the service is excellent! I just tried the second one today at a joint called Young's, and if I may be so bold, should tell you it is the best on Earth. I ate it while I sat through a huge traffic jam and was happy as a clam!
Yum! Anyway, happy Monday, hope you all have a great week!