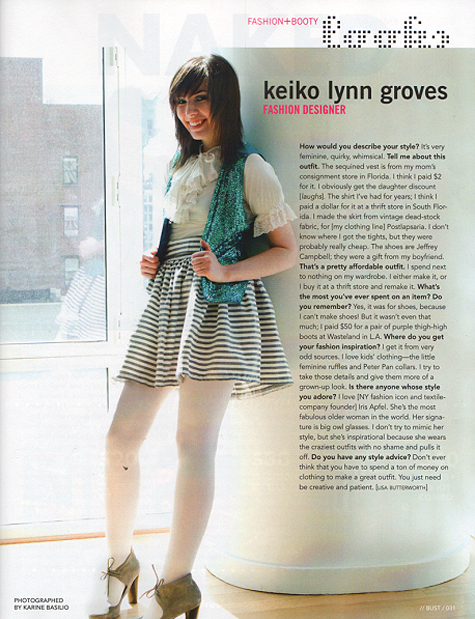 I got my June/July issue of
Bust
the other day, and I was pleasantly surprised to find one of my favorite
bloggers
featured in their personal style article! So if you're a fan like me, I took the liberty of scanning it in for you. But by all means, it's a great magazine, so make sure to get a copy one of these days!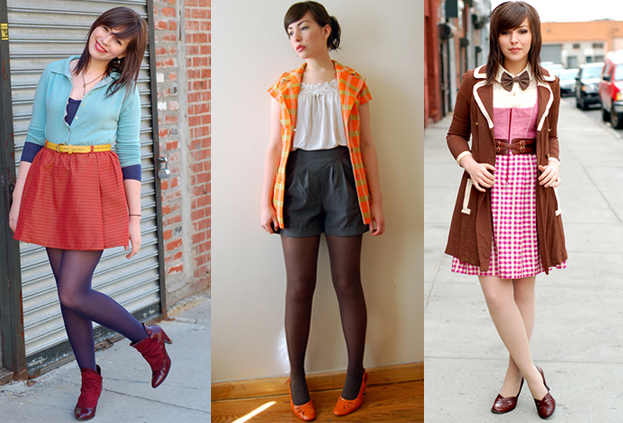 This actually has a lot to do with what I blogged about yesterday, the whole child fashion thing, as she sites that as one of her inspirations. Her style is one I probably couldn't pull off myself, but I still really admire it! She has such personality - what a feminine, whimsical style! She's sort of larger than life, if that makes sense. And she makes a lot of her clothes to boot. You can find them at
Postlapsaria
.
Plus, I just wanted to congratulate her - what a nice feeling it must be to see "Fashion Designer" under your name :)! And possibly the best part of all - SHE SIGNS! I nearly fell over in my chair when I found her Youtube videos. I hope she doesn't mind me posting, but it's so fun I really wanted to share. (To be clear, this is PSE, not ASL, as it is in English word order.) Enjoy!
Now I'm off to buy hair putty and check out my favorite Salvos. Pray to the thrift fairy that I find something lovely, won't you?