Perfume is something I've grown up with. They say that scent the strongest sense tied to memory, and I think this is so true! I think it's such a mysterious art, and it's something I've become more and more interested in as I get older. I hope to one day try my hand at making my own! I actually worked in a perfume shop for a short time last year. It's also special to me because it's something my mom and I share - each year around Christmas time we go to Macy's and pick out a new scent for that year. So! I thought it would be fun to share my little perfume story :D
1. "Sunflower" by Elizabeth Arden was my first perfume ever. I was probably about 10 when I got this? I didn't wear it very often, but I still like it to this day! It's pretty cheap, I've been meaning to pick up a bottle at Wal*Mart just for kicks!
Ingredients: Bergamot, Melon, Peach, Osmanthus, Jasmine, Cyclamen, Sandalwood, Moss.
2. "Curious" by Britney Spears was probably the next one. I wasn't particularly a fan of hers, but when I was younger I really liked her perfume! I found it got old really fast for me though.
Ingredients: Louisiana Magnolia, Golden Anjou Pear, Lotus Flower, Tuberose, Star Jasmine, Pink Cyclamen, Vanilla Infused Musk, Sandalwood, Blonde Woods.
3. "With Love" by Hilary Duff. Again, the celebrity really had nothing to do with the choice, but I did really like Lizzie MacGuire at the time! I was really attracted to the shape of the bottle, too.
Ingredients: Milk, Fruit, Mangosteen, Musk, Flower, Exotic Spices, Amber, Cocobolo Wood
4. "Heavenly" by Victoria's Secret. I actually got this as a gift from a school friend in junior high. I wonder if she knows I still wear this one occasionally! Not my favorite anymore though…
Ingredients: Vanilla quince, Cardamom, White peony, Freesia, White musk, Sandalwood.
5. "Brit" by Burberry. Unfortunately my boyfriend thinks this smells like "his grandmother's couch" haha but I was really excited about this one a few years ago! It's true though, a little goes a long way.
Ingredients: Italian Lime, Icy Pear, Green Almond, White Peony, Sugared Almonds, Amber, Mahogany, Vanilla, Tonka Bean.
6. "Amour" by Kenzo. This one is really different from anything I have. It's very powdery and sweet. I wore it a lot last winter. I love all of the asian influences!
Ingredients: Frangipani Blossoms from Bali or Borobudur, Cherry Blossoms from Japan, Tanakha Wood, Incense, Thai Rice Steam, Vanilla of La Réunion, White Tea from China.
7. "Lovely" by Sarah Jessica Parker. My mom and I share this one actually. It's kind of a sophisticated smell to me, and I think my mom wears it more than me.
Ingredients: Lavender, Orchid, Amber, Apple Martini, Paper Whites, Musk.
8. "Fancy" by Jessica Simpson. This is what I wear…if I want to smell like dessert :P It's probably the sweetest perfume I own.
Ingredients: amber crystals, apricot nectar, pear, gardenia, jasmine, caramel, vanilla, sandalwood, red fruits, toasted almonds.
9. "Daisy" by Marc Jacobs. My everyday fragrance. I'm not usually a fan of such intense florals (usually I tend towards the sweeter stuff) but I really like this one!
Ingredients: Strawberry, Violet Leaves, Ruby Red Grapefruit, Gardenia, Violet Petals, Jasmine Petals, Musk, Vanilla, White Woods.
10. "Princess" by Vera Wang. This is one of my current favorites. I only have a small vial of it, so I try to use it sparingly. It makes me feel really feminine and pretty J! I also think it's one of my (oh jeez)…sexier scents :O
Ingredients: Water Lily, Lady Apple, Mandarin Meringue, Golden Apricot Skin, Ripe Pink Guava, Tahitian Flower, Wild Tuberose, Dark Chocolate, Pink Frosting Accord, Precious Amber, Forbidden Woods, Royal Musk Captive, Chiffon Vanilla.
11. "Hot" by Ralph Lauren. Honestly, I'm not the biggest fan of RL's perfumes. But I made an exception to this one. Even though I hate the bottle (designed for a 13 year old, looks like!) I really love the scent. This is pretty strictly my "night time" perfume because it's a lot heavier than the other ones. And (yes, I'll say it again, yikes!) sexy, too :P I read a review once that said it smelled like pancakes and maple syrup…Kinda true!
Ingredients: Spices, Lime, Amber, Fig Leaf, Mandarin Orange, Musk, Orchid, Almond Blossom, Vanilla, Jasmine, Citrus, Sandalwood, Geranium.
12. To make it an even dozen my newest will be Sarah Jessica Parker's "Twilight," which I ordered today. Not to be confused with the Twilight series perfume (oh, Lord)! I really like the story behind this one, too…It's a division of her Lovely line, that is part of a set of three, the other two being Dawn and Endless. The idea is to record moments of her life, as Dawn is a dewy, morning smell, and Twilight is the sensual, mysterious smell…Makes "scents"! (Eep, I'm so bad at puns...)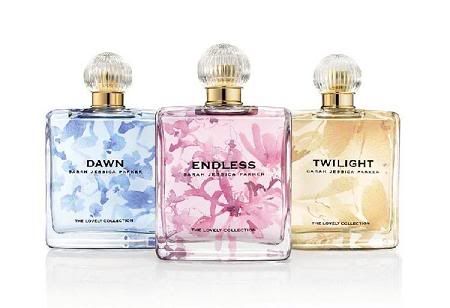 A few perfume tips I've learned!:
1. It can last up to 8 years if stored properly (out of sunlight in cooler temperatures. You can even put them in the fridge!)
2. Difference between an EDP and an EDT? EDPs (Eau de Parfum) are more intense and last longer. EDTs (Eau de Toilettes) are a little weaker, but are usually less expensive.
3. Don't buy full size!! Unless you have one signature scent that you use every day, I'd suggest looking online for smaller sizes. Ebay and other sites sometimes divide up large bottles and sell them in sample sizes.
4. Try it on your skin before you buy. Spray a little on your wrist and smell it over the next few hours - everyone's body chemistry is different!
5. If they aren't sitting out, ask the counter attendant for the coffee beans. Smell them periodically so that your nose doesn't get overwhelmed!
Oh, and if you were curious, my mom wears Chanel No. 5, Beloved by American Beauty, Red Door, White Shoulders, and Lovely by SJP…to name a few :P Clearly she is a lady of the classics ;)
So...what do you wear? I'm so curious!