Left:
"Mermaid" dress: Thrifted and shortened
Black crossbody bag: Etsy (sorry, you'll be seeing this one a lot!)
Sandals: Saltwater sandals (I'm livin' in these babies!)
Right:
"Science" dress: Thrifted and altered (hemmed and made into short sleeves)
Pink kisslock purse: Childhood remnant
Maroon tights:
WeLoveColors
Studded ballet slippers: DIY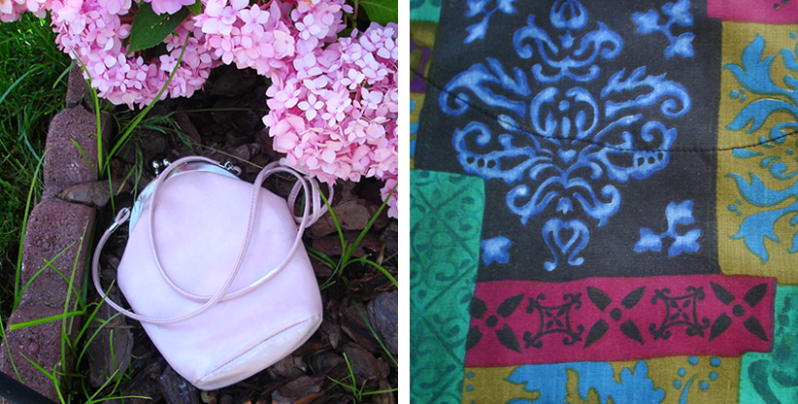 Couple of notes! The little pink bag I've had since I was little. I've almost gotten rid of it so many times now, but could never part with it :P The left I wore to go see Harry Potter, and the left I wore around the house and to the store after work today. The tights are definitely my favorite element of the outfit, I was so glad it was cool enough to wear them today! WeLoveColors are the only tights I really buy, to be honest with you. They're so soft and durable and it was so nice to be able to choose from such a large variety of sizes and colors. These ones are a mouth-watering raspberry color (called "Maroon" on their
color chart
). Plan on seeing their tights here a lot! (And don't miss out on a chance to win some in
the giveaway
!)
The plum/red dress actually has darling gold buttons with atoms on them! That's why I've been referring to it as the science dress :P My camera is acting up lately, especially with up close shots, so I think I need to read the manual to fix that! It was really matronly too before I had it hemmed and the long sleeves turned into short ones. Like I said before, I hate sewing, so I was happy to swap favors with a neighbor lady! I made her business cards in exchange for the alterations :).
Anyway, a quick post today! I'm working this weekend and I have a mountain of homework, ick. I'm still going to do Fat Love Friday (I've got two wonderful chickies picked out!), but it'll have to be posted tomorrow. Gah, I was never very good with deadlines...