So, lately...I'm going through a bit of a phase. Or something. We young people do that, right? Reassure me here. It's like my taste in clothes has taken on a mind of its own o.o! My style this summer was basically like art teacher meets your churchgoing Grandmother (let's just be honest haha). For the last few months, I had had the strongest aversion to the mall and store-bought items. And suddenly, BAM! I find myself with the strangest things for fall...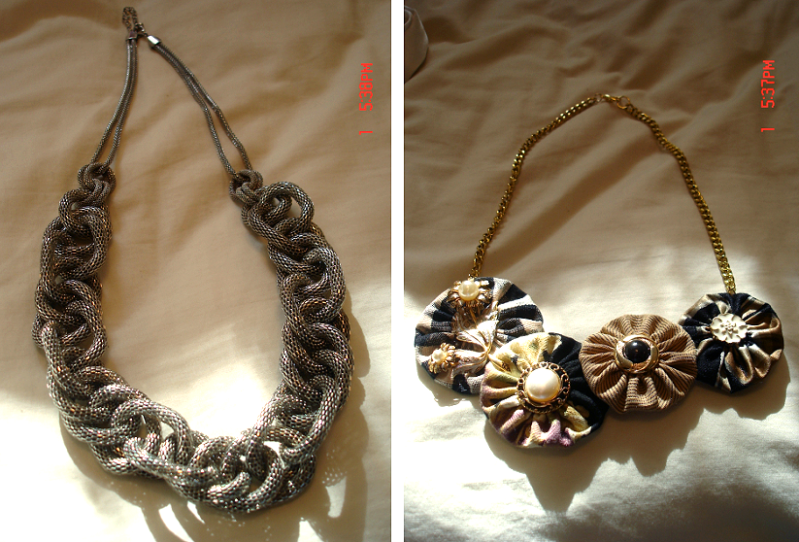 Left: Charlotte Rousse, $12. Right: Etsy, $20.
Left: Maroon rose print pencil skirt, thrifted, $2. Middle: Dusty pink ruffled cami, JC Penney, $17. Right: Embellished rose T-shirt, Target, $22.
Left: Black & white stripe T-shirt: Faith21, $18. Middle: Huge abstract rose bag, Forever21, $18. Right: Simple black boots, Target, $40.
I know, the rose thing has gotta stop haha. But anyway! I've also got a few other things in mind that I'd like to slowly incorporate into my wardrobe and a few things on their way. I also invested in a basic black top, sweater, and pants. I'm also on the hunt for a nice leather jacket. I guess sometimes I just feel kind of, well, OLD dressing all in vintage/thrifted. In fact, well, a few people have told me so.
WAIT - I know what you're thinking. Don't let people change the way you want to dress, wear what you feel good in...I get it. But honestly, sometimes they were right! I'm still a bargain shopper though (after spending all that time paying less than $10 per garment, $40 on a shirt seems a little crazy!), but I am starting to feel a lot more open to more modern styles.
Honestly, you can just blame these (fabulous) people. Just a warning, only click if you are willing to be completely inspired!:
Fatshionable
Style Bubble
Garbage Dress
Kingdom of Style
Alice Point