I love the '90s. It's one of the eras I grew up in, so naturally I'm nostalgic, right?! If I haven't mentioned it before, I also love TV shows. They're like...one long, complicated movie :O So obviously, TV show + the '90s = YES! Recently I have discovered My So-Called Life, and can't get enough. Before this, I was obsessed with Dawson's Creek. Then there's Boy Meets World, Fresh Prince, Buffy the Vampire Slayer (still working on this one!), Friends,
Seinfield
...even Sex & the City started in the 1990's.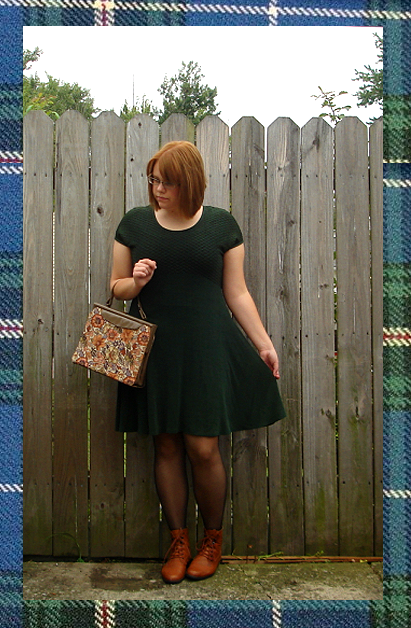 Deep green dress:
Thrifted
Caramel booties:
Thrifted
Transparent black tights:
Thrifted
Floral carpet bag: Vintage, Chelsea's.
(Sorry for the awkward pose, it was raining a bit so I was trying to hurry!)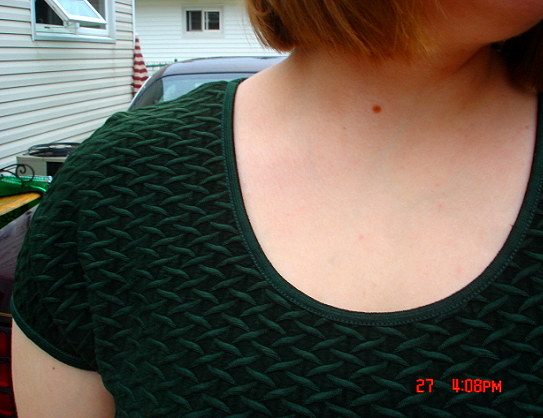 Not to mention movies like 10 Things I Hate About You, Clueless, Jawbreaker...I mean seriously, it's good stuff
xD
!
Angsty
teen
mallrats
, cute wholesome boys, high school drama...And don't get me started about what's on my
Ipod
(Violent
Femmes
, The Cranberries, oh my!). Okay, I will shut up
haha
. But the point is that it inspired me to try to put together a '90s-
ish
outfit. I could have done a big plaid shirt, Doc Martens, etc, but I was trying not to look
costumey
! I know it could use some accessories, but I'm at a loss when it comes to that stuff. Anyway, I'm going to try to do a Fat Love Friday post tomorrow, but I have school and work all weekend, so we'll see how it goes. On that note, thanks for putting up with my sporadic posting <3!