While I'm feeling uninspired with my closet, it seems I've strayed from the usual fashion related topics so far this week. Just bear with me a little longer! If all goes according to plan there should be an outfit post tomorrow, since I did plan an outfit for my trip downtown to see Mary Poppins tomorrow evening :) But more on that later!
For now I wanted to share a nerdy little hobby of mine. Now, I haven't made any for quite awhile but it's just because I haven't been able to decide if I should put them up on Etsy or not. If you aren't familiar with what they are, they are made out of perler beads. To make them, you use a board with small pegs, arrange the beads, and then iron them to melt it together! I'm kind of a cartoon/SNES character freak, so that's what I usually make.
They can be used as car ornaments, coasters, wall hangings, magnets, Christmas ornaments, or whatever else you might imagine! Some of them (like the Pikachu, Bulbasaur, and Chibi-Chibi) can be quite large if you use several boards together.
So I need some advice! Do you think they would sell? It's okay to say if you don't think so! If so, what do you think would be fair prices? Which characters would you like to see made? Any input is dearly appreciated :D!
Happy Berry from Paradise Kiss (Anime and manga series).
Kamek and Lemmy Koopa from Super Mario Bros.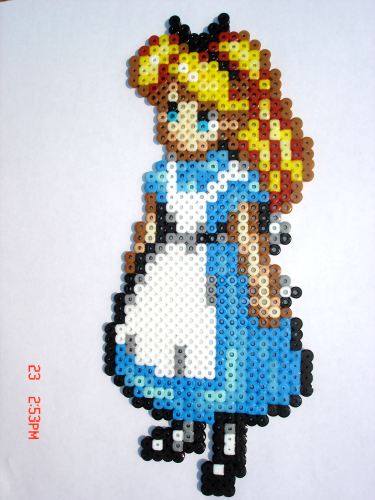 Alice from Disney's Alice in Wonderland.
Sugar Bunnies from Sanrio.