Sorry for the lack of posts! I've been having some troubles lately, but nothing too serious. I'd really like to keep this a place of positivity so I won't go into detail, but I've found something to be cheered up about! Not fashion or vintage related, but I hope you enjoy it :D! (And don't worry, I'm cooking up some of those posts, too!)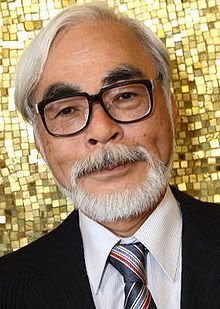 I have loved Hayao Miyazaki (Born January 5, 1941) films ever since I first saw
My Neighbor Totoro
as a little girl. First of all, if you don't know who he is, he is a Japanese filmmaker/writer/director/artist who has been called the "Walt Disney of Japan." (Though supposedly he hates being called that.) In fact on his last few films he now works with Disney Studios. Surprisingly, he graduated college with a degree in political science and economics, not art or film. In 1985, he founded Studio Ghibli, which is now quite famous.
Here are some of his most well-known films, in order of release date, and some brief thoughts on them:
1984: Kaze no Tani no Naushika (Nausicaa of the Valley of the Wind).
Famous voices (in the dubbed version): Uma Thurman, Alison Lohman, Patrick Stewart, Shia LaBeouf.
Thoughts: I don't enjoy war/conflict themed stories as much as other people might, so I'm a little biased I guess. This is the first time I saw his flying/aircraft and creature work. I was also impressed with the female lead, which I came to realize is very common in his films. It deals with technology and also portrays an obvious concern with human impact on the environment.
1986: Tenku no Shiro Rapyuta (Laputa: Castle in the Sky).
Famous voices (in the dubbed version): James Van Der Beek, Anna Paquin, Andy Dick, Mark Hamill.
Thoughts: This one was very sweet. It's sort of that classic "treasure hunt" plot, where they go in search of a mythical land. I loved that this one took place in the sky, with all the floating/flying/etc. LOTS of aircrafts in this one, but much less military-esque and dark than Nausicaa. Definitely one his most most adventure-themed movies.
1988: Tonari no Totoro (My Neighbor Totoro).
Famous voices (in the dubbed version): Dakota Fanning.
Thoughts: This is probably my second favorite. It was actually dubbed twice, the most recent one featuring Dakota Fanning. I actually HATED this new one, so I highly suggest seeing the original dubbed version! This is just a story about the magic of being a child, and the bond between sisters and between fathers and daughters. It's a very sweet, innocent story. Plus it has a very catchy theme song O_O.
1989: Majo no Takkyubin (Kiki's Delivery Service).
Famous Voices: Kirsten Dunst, Matthew Lawrence.
Thoughts: I really identified with this one, as I think a lot of young girls did. It was probably most easy to relate to of all his films. It's about a young witch growing up, trying to find her place in life. I also think this is as a close to a romance as Miyazaki gets in any of his films (probably because these characters seem the oldest he's dealt with). I also really liked her cat companion. I guess growing up in America, you can't help growing up with a love of talking animals haha.
Sources:
Youtube
,
Wikipedia
,
International Movie Database
.